Of course, I encourage reducing processed foods and upping the fruits and veggies HOWEVER I am always asked by clients "Are there any good options out there?"
The answer is YES. I would be lying if I said I didn't eat processed foods everyday. Nobody has the perfect diet and it's OK.
Thank goodness, right? Many responsible food companies are doing their best to provide quality processed options for people on the go and who need quick sustainable options.
If you think about it almost all foods at the grocery store have been through some type of processing. Just because veggies have been flash frozen and bagged, doesn't mean they are an unhealthy choice.
Here a few of my top favorites:
Bars
RX Bars (I use the kid's for snacks)
Nugo Bars (Discount Code: NUGORD until 9/30)
KIND Bars (I buy the mini's)
Nuts & Nut Butters (watch out for added sugars)
Roasted Nuts
Seeds
Beans & Grains
Dried or Canned Beans of all kinds! 
Brown Rice (90 Second)
Protein
Jerky (I make my own but like this brand as well)
Smoked Salmon (I make my own but like this brand as well)
Dairy
(See overnight Oat/Yogurt Parfait Recipe & for my clients I have Siggi's Coupons!)
Individual Cheese and Cottage Cheese
Fruits & Veggies
Dehydrated & Dried Fruits & Veggies
Skillet Bags by Rooster & Lark
(See Caulipower Pizza Recipes)
Sauces & Oils
Olive, Avocado, Sesame, Peanut, Canola Oils are staples at my house
Vinegar
–Balsamic, Red Wine, White Wine
Sauces & Dressings (Avoid added sugar)
Seasonings (I LOVE this EVERYTHING SEASONING)
Coffee, Tea & Treats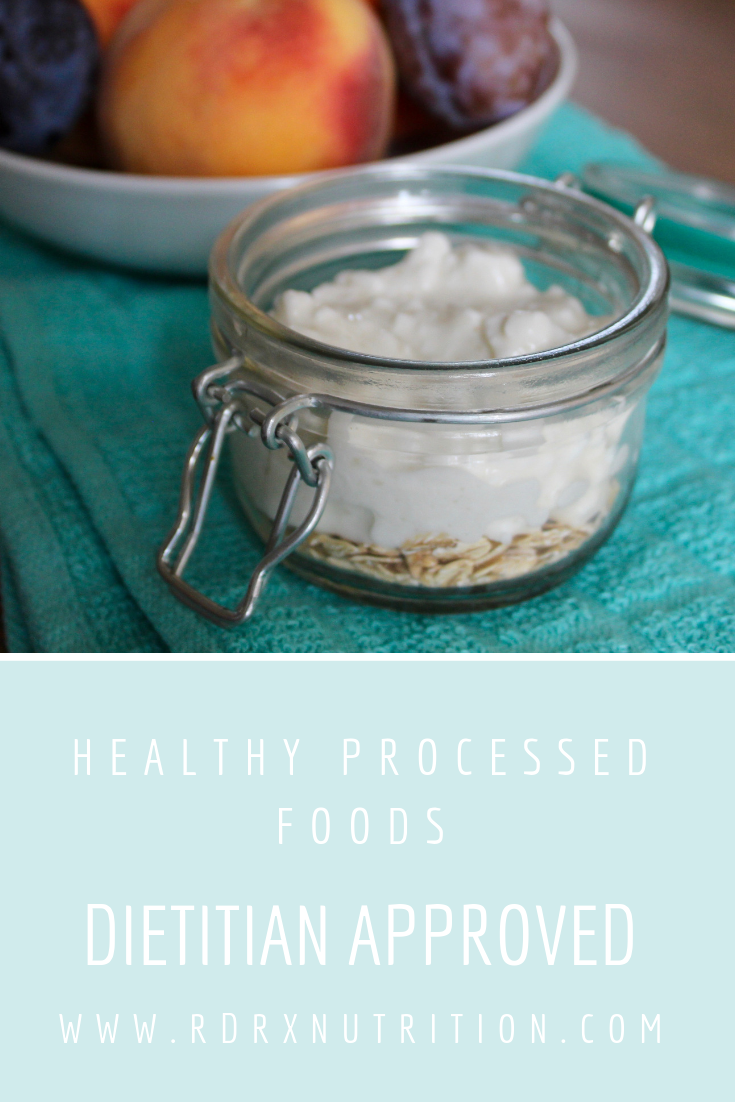 ***All the links provided are brands I personally like and trust. There are millions of options out there!