MA! MEATLOAF! WE WANT IT NOW! –Will Ferrell, Wedding Crashers
I'll be honest, I never ate meatloaf growing up but apparently it's a popular comfort food in the Midwest. Many of my clients have requested it for their meal plans and it's an easy weeknight meal.
I decided to give it a shot. In my head, I was like…meat in a loaf? I just don't know, I think loaves are meant for bread but anyways it turned out pretty good! I decided to go with mustard vs. ketchup, so the glaze would work for veggies too.
Nutrition Info:
Ground Meat (beef): is a great source of protein, carnitine, zinc, selenium, iron, and B vitamins. If you choose a lean cut of meat you won't have too much fat, especially saturated fats that may be associated with increase inflammation.
Mustard: Low calorie, no sugar way to flavor foods! Mustard is a versatile cruciferous vegetable which belongs to the Brassica family just like broccoli and cabbage. Seeds of its plant are a rich source of minerals such as calcium, magnesium, phosphorus, and potassium.
Carrots: Carrots are loaded with beta-carotene, a natural chemical that the body changes into vitamin A. The veggie is an excellent source of vitamin A, providing more than 200% of your daily requirement in just one carrot.
Brussel Sprouts: are low in calories but high in many nutrients, especially fiber, vitamin K and vitamin C. Also high in antioxidants that may help prevent cancer and decrease inflammation.
Bone Broth: I used USDA organic beef bone broth crafted with bones from grass-fed, pasture-raised cows and is simmered slowly to extract maximum nutrients. It has one simple ingredient and is super quick and easy to make at home! High in amino acids, vitamins and minerals.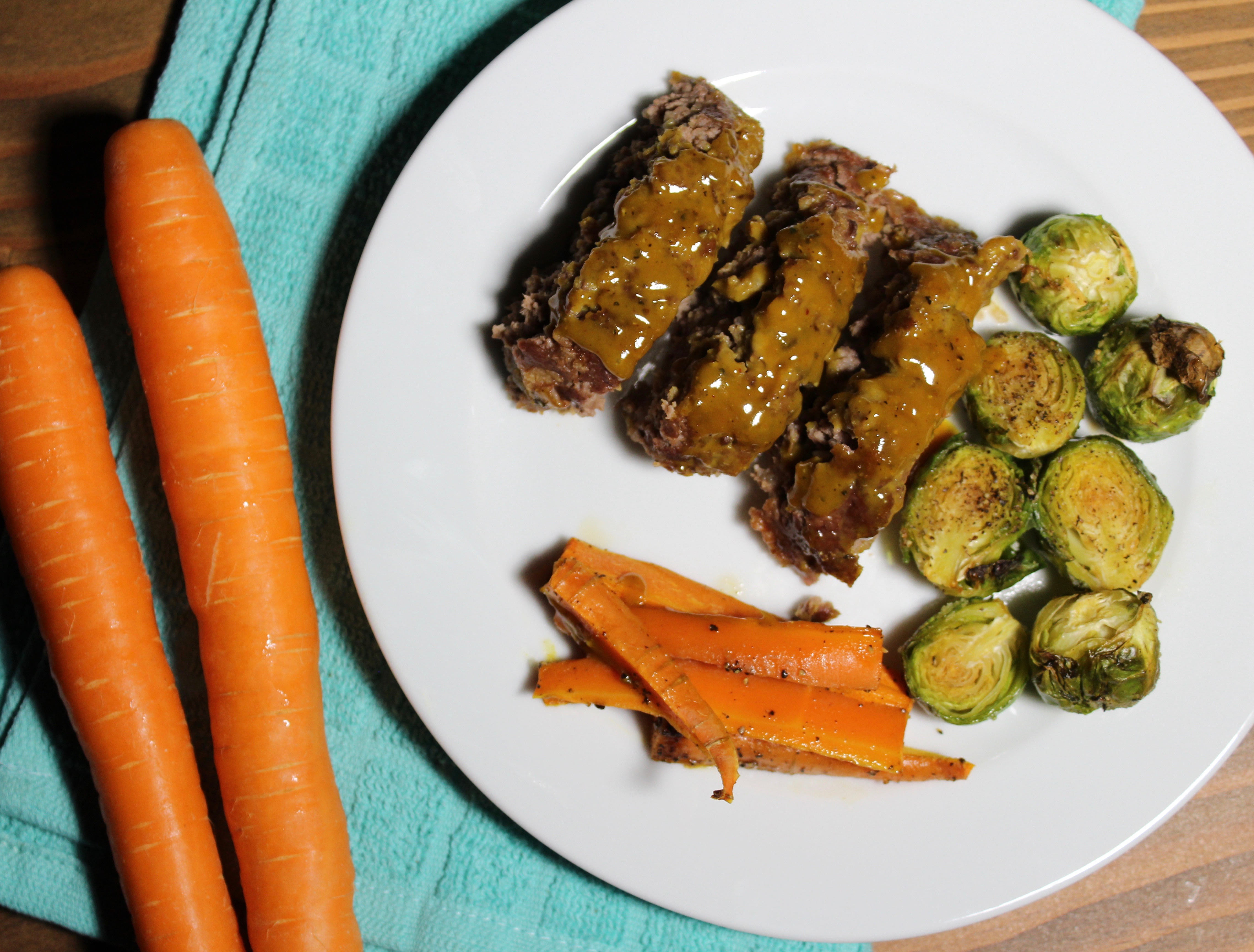 Mustard Glazed Meatloaf and Veggies
| | |
| --- | --- |
| Cuisine | American |
| Prep Time | 10 mins |
| Cook Time | 30 mins |
| Servings | 4 servings |
Ingredients
Meatloaf
1 Cup Puffed Rice Cereal
½ Cup Bone Broth or Beef Broth
1 lbs Lean Ground Meat (I used deer)
1/2 Cup Onions, diced
1/2 Cup Peppers, diced
Mustard Glaze
3 Tbsp Dijon Mustard
1 tsp White Wine Vinegar
1 tsp Brown Sugar
1 tsp Worcester Sauce
½ tsp Garlic Powder
Salt and Pepper
Veggies
6 Carrots, sliced
2 Cups Brussel Sprouts, halves
½ Tsp Olive Oil
---
Instructions
Preheat the oven to 375F
Place the rice cereal in a large bowl and pour broth (follow bone broth instructions or use broth of choice) on top of it and mix well, breaking apart cereal.
Add the ground meat, onions and peppers and mix together. Season with salt and pepper.
Form into a loaf shape and place on baking sheet with foil on the pan.
Slice carrots and chop brussel sprouts in half. Put medium bowl, and drizzle olive oil on veggies, lightly coating them.
Bake meatloaf and veggies for 25 minutes.
After taking out, turn broiler to high
In a small bowl mix together mustard, vinegar, brown sugar, Worchester sauce and garlic together.
Drizzle mustard glaze over meatloaf and veggies, put back in the oven. Check after 5 minutes, crust should be browned and sticky.
Things You Might Need