Sizzling Hot and Healthy
This recipe will for sure satisfy your Mexican food craving. You've got colorful peppers, spicy seasonings, sizzling lean steak and of course guac. Extra guac. Squeeze some fresh lime on top and you've got a fiesta on your plate.
Everyone loves fajitas but people often forget about them when the smothered burrito is first on the menu or when there are frozen cheese enchiladas in the freezer. This fajita recipe takes no time at all and is a healthier alternative. If you plan on having some extra chips or a margarita (or two) I would suggest throwing your fajita meat and veggies on a salad or eating them naked if you're watching carb portions. It's a great weeknight meal option and the leftovers are great on salad. If you're into food presentation, get a fajita pan set and bring the restaurant appeal home!
Nutrition Info:
Peppers- All peppers are loaded with antioxidants, but none so much as the brightly colored reds, yellows, and oranges. Great sources of Dietary Fiber, Vitamin A, Vitamin C, Vitamin E (Alpha Tocopherol), Vitamin B6 and Folate. So load up on some colorful veggies!
Lean steak- We use elk meat but the healthiest cuts of beef are 95 to 97 percent lean. If opting for a steak, choose flank, tenderloin, sirloin, filet mignon or top round roast.  Beef is a great source of protein, B-vitamins, selenium, zinc and niacin.
Homemade seasoning- Make your own! Avoid the extra sodium and it's usually cheaper to buy spices in bulk. Chili powder, Garlic Powder, and Cumin are musts if you're a fan of Mexican food.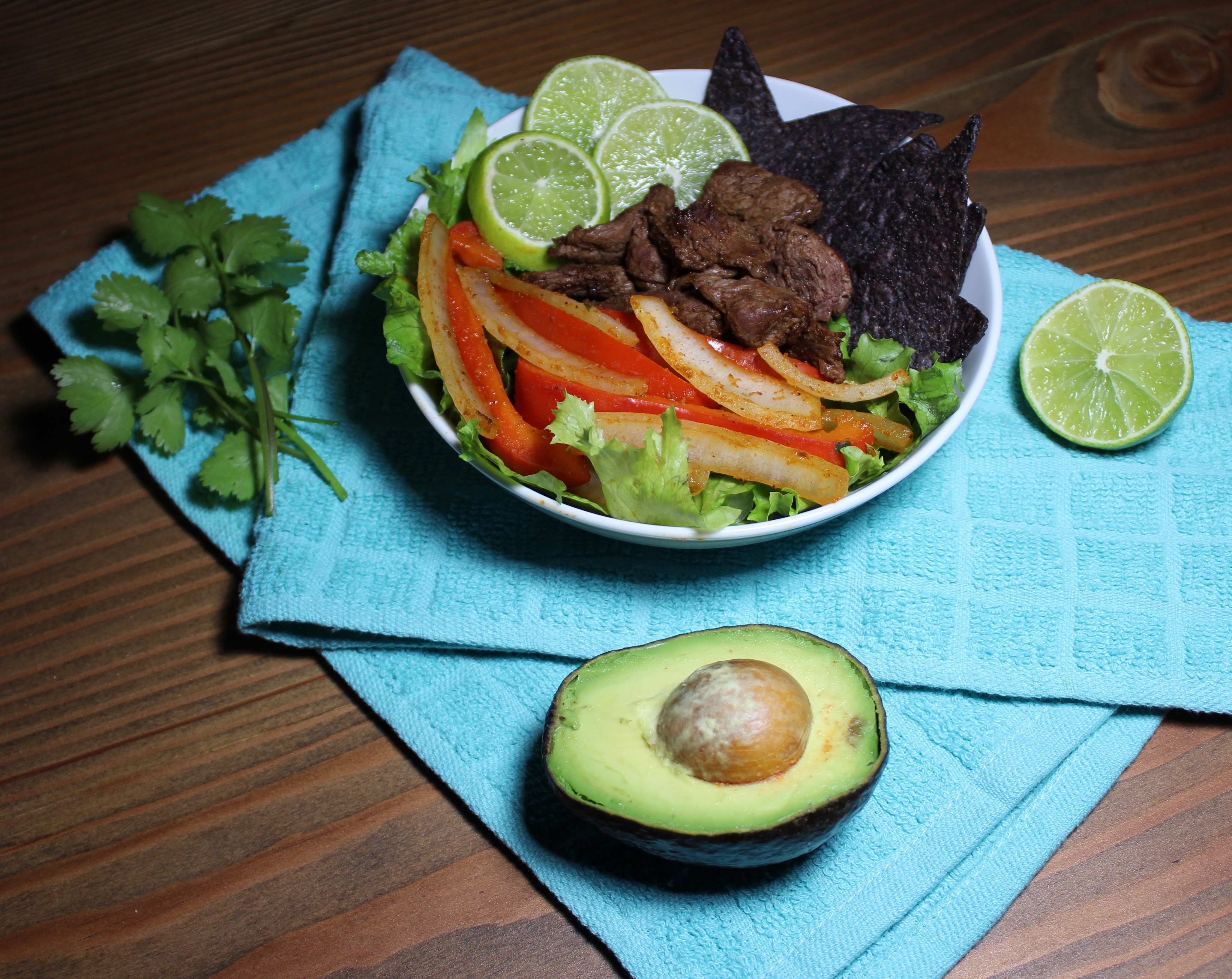 Quick Fiesta Fajitas 
| | |
| --- | --- |
| Cuisine | Mexican |
| Prep Time | 10 min |
| Cook Time | 20 minutes |
| Servings | 6 servings |
Ingredients
Veggies & Homemade Seasoning
3 Large Bell Peppers Orange, Yellow, Red, Green
2 Medium Onions
1 Tbsp Olive oil
1/2 Tbsp Garlic Powder
1/2 Tbsp Onion Pwder
1/2 Tbsp Chili Powder
1/2 Tbsp Paprika
1 Tsp Cayenne Pepper
1 Tsp Cumin
1 Tsp Salt Optional
1 Tsp Pepper
Meat
1 lbs Antelope Steak Beef, Shrimp, Chicken, any meat of preference can work
Guacamole
2 Large Avocados
1/2 Medium Onion
1/2 Tbsp Garlic Powder
2 Squeezed Limes
1 Tsp Red Pepper Flakes Optional
1 Pinch  Salt Optional
Base
6-12 Cups  Lettuce Low-Carb Option
6-12 Flour or Corn Tortilla Traditional
---
Instructions
In a large saucepan add olive oil, peppers, onions, garlic powder, onion powder, chili powder, cayenne, cumin, paprika, salt and pepper. Sauté 10 minutes.
Cook meat of choice and grill or heat in pan until medium-rare.
Add meat to pepper and onion mix in saucepan. Cook until meat is to your liking (5-10 minutes).
Stuff into a tortilla or add meat and veggies to a bowl of lettuce!
Things You Might Need