Taco 'Bout An Easy Salad
If you've been packing chicken and broccoli for the last 5 years or making the same sad salad…
Great news! Your salad doesn't have to be the same boring thing! If you're stuck doing lettuce and grilled chicken everyday, change it! Try using whole food ingredients, herbs and spices to mix things up. Taco salad is an easy nutritious meal that has little prep time and satisfies a Mexican food craving.
Mexican food is a staple at my house, so I try to come up with healthier alternatives all the time. Using lean ground meat or steak, chopped veggies, salsa and avocado I always feel great about not having to add any processed dressings or toppings. Extra calories can add up quick when you're using loads of sour cream and cheese.
So when Taco Tuesday comes around try a taco salad! Make a little extra for lunch the next day and enjoy a fresh healthy meal. If your head says the gym but your heart says tacos, this is the perfect compromise.
Nutrition Info:
**Add some complex carbs like beans, corn or a small shredded whole wheat tortilla! All are low-fat and high fiber! Great additions to make it a balanced meal.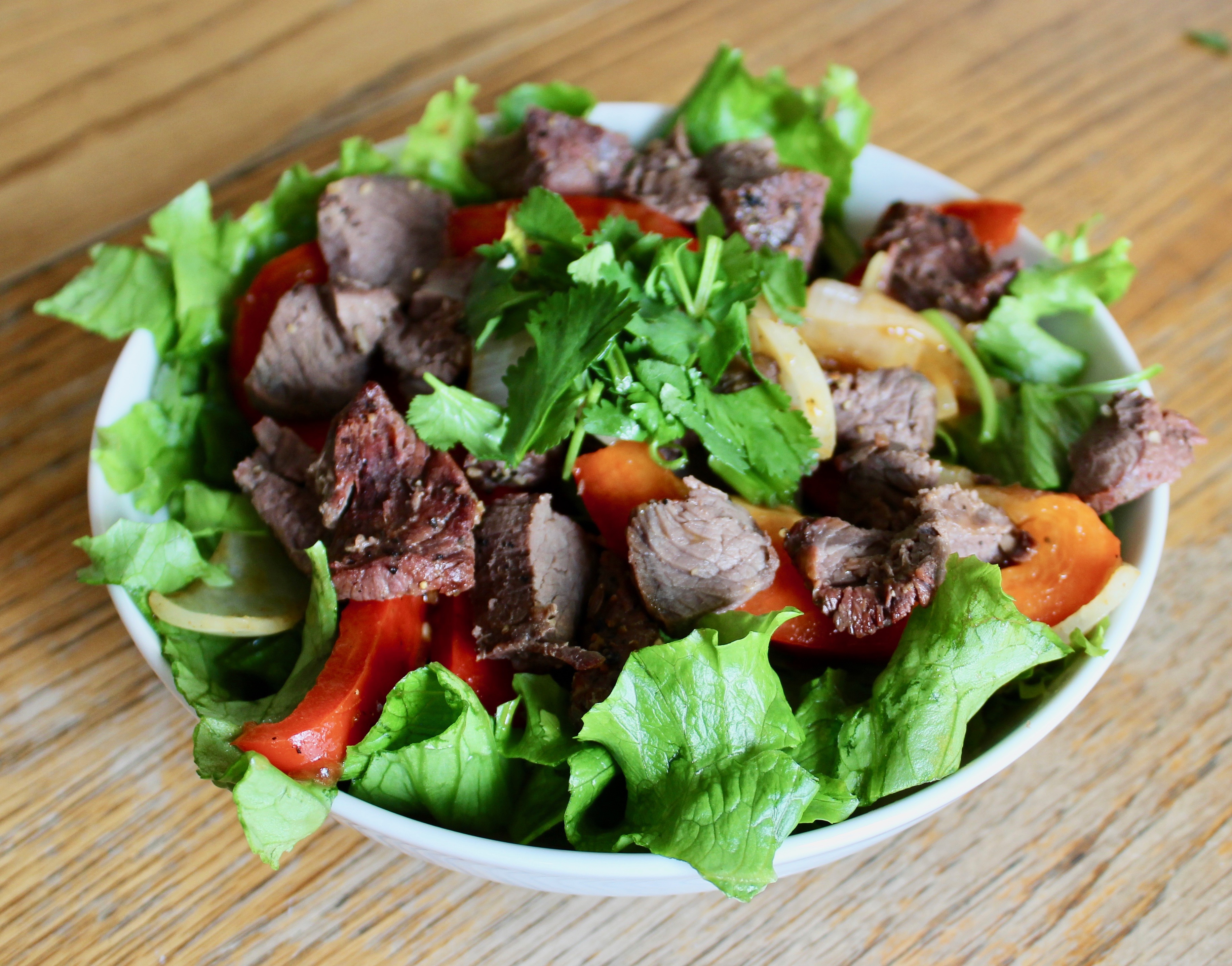 Taco Time
| | |
| --- | --- |
| Cuisine | Mexican |
| Prep Time | 10 min |
| Cook Time | 15 mins |
| Servings | 2 servings |
Ingredients
1 Small Head Lettuce
1 Large Onion Sliced
1 Large Bell Pepper Sliced
1 Tsp Olive oil
2 Tbsp Cilantro
1/2 Tsp Chili Powder
1 Tsp Garlic Powder
1/2 Tsp Cayenne Pepper
1/2 Tsp Pepper
1/2 lb Steak or Chicken Marinade optional
4 Tbsp Salsa
1/2 Avocado
1 Cup Beans
---
Instructions
Wash and cut lettuce. Put into bowl for the base.
Add onion, pepper, spices and olive oil to medium sized pan and cook on medium heat 10-15 minutes.
Grill steak until cooked to desired texture.
Add veggies, beans, meat, avocado and salsa as toppings!
Things You Might Need